While the benefits of AI in video surveillance are numerous, a few recent trends have been particularly exciting. Deep learning, Face recognition, Cloud-based systems, and Advanced analytics are just a few of the technology trends enabling intelligent video analytics. In addition to making the system more efficient, AI in video surveillance helps systems communicate with each other and identify suspicious activities. Using these technologies will improve surveillance systems in many ways, including detecting suspicious behaviour.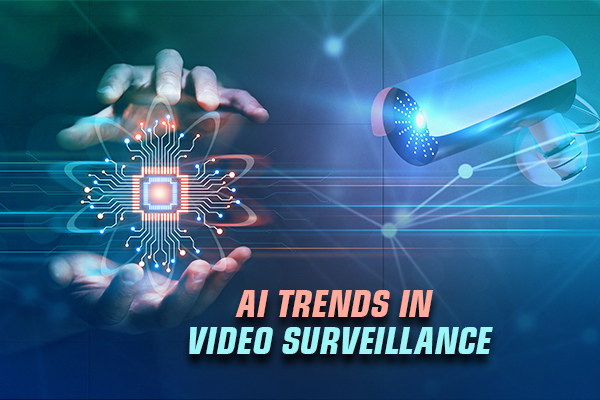 Face recognition
Video surveillance systems are increasingly using facial recognition to monitor the public. As these systems are used in a wide variety of situations, privacy concerns have become more acute. Recently, San Francisco voted to ban the use of facial recognition technology in police department cameras. The Board of Supervisors signed an anti-surveillance ordinance, which prohibited the San Francisco Police Department from using the technology by June 2019.
Currently, most face recognition systems are used in China, where more than 100 cities have installed them. According to China File, an online publication of the Center on U.S.-China Relations, face recognition systems are the most prevalent in China. By 2021, CNBC expects the number of surveillance cameras in China to exceed 500 million. However, this number is based on unconfirmed reports.
Deep learning
There is a growing demand for video surveillance solutions that use deep learning. However, deep learning is still expensive and requires vast resources and computing power. Moreover, not all video analytics algorithms are compatible with deep learning. For instance, license plate recognition tools work best with older computer vision algorithms. However, AI solutions for video surveillance can solve these challenges. Here's a look at the advantages of deep learning for video surveillance. In particular, the following advantages are emphasized:
AI is able to process large amounts of data efficiently. For video surveillance, this capability is particularly beneficial for low-power embedded devices, such as security cameras. It enables surveillance systems to analyze massive data and save bandwidth. In addition, these systems are designed to handle large amounts of data. The proposed AI algorithm aims to detect people, count them, and track their movements in a surveillance area. The proposed AI application uses a Mobile Net-SSD architecture to identify people in surveillance areas and to count them.
Cloud-based systems
Using cloud-based systems for video surveillance can be very advantageous. These systems can easily expand storage without installing expensive hard drives, while also allowing you to easily control access and recording settings. Cloud-based systems can handle everything from the cameras to the gateways. With the right software, you can set up your surveillance system in a matter of minutes, rather than spending days or weeks on installing separate equipment and managing multiple servers.
Typically, video surveillance systems are used by enterprises to monitor live video or review security incidents. More intelligent solutions can reduce losses caused by theft and improve customer service. By monitoring commercial conversion rates, video surveillance can also help businesses identify strengths and weaknesses in their strategies. Cloud-based systems are used by enterprises of all sizes and sectors to lower IT costs and streamline application management. In addition, enterprises can increase flexibility in their infrastructure with these cloud-based systems.
Advanced analytics
With the right camera and intelligent software, you can reduce human error and improve video surveillance security. Advanced analytics in video surveillance software can detect objects, people, and even traffic patterns in real-time. In addition to detecting people, they can detect traffic patterns, including speed and volume of traffic. By combining video and analytics, security systems can detect erratic driving and pedestrian-only areas. Video analytics can even identify stolen vehicles, reducing the risk of theft and improving safety.
While there are plenty of off-the-shelf solutions for video analytics, not every solution is suitable for all applications. Some solutions work well for classic security systems, while others are more advanced and require customisation. Nevertheless, if your business relies on video analytics, you can benefit from these technologies by leveraging them. The following are three reasons why advanced video analytics in video surveillance are essential for your business. They can save you money in the long run.
Cyber-attacks
Video surveillance systems are vulnerable to cyber-attacks. In particular, these attacks can cause the surveillance systems to fail. Many DVRs have a vulnerability to unauthenticated login disclosure and command injection via UART. Researchers were able to connect to a camera's UART and update its firmware with code to determine that it was running a vulnerable version of OpenSSL. This technique has also been used to compromise hard-drives, monitors, and networking equipment.
Attackers can gain access to video surveillance systems through phishing emails and brute-force login attacks. They can also use compromised cameras to launch Denial-of-Service attacks. Once access to the video feed is gained, the attacker can steal credentials and even launch a Denial-of-Service attack. Moreover, attackers can also install malware on video surveillance systems. They can also spy on employees' activities by viewing their live video feeds.