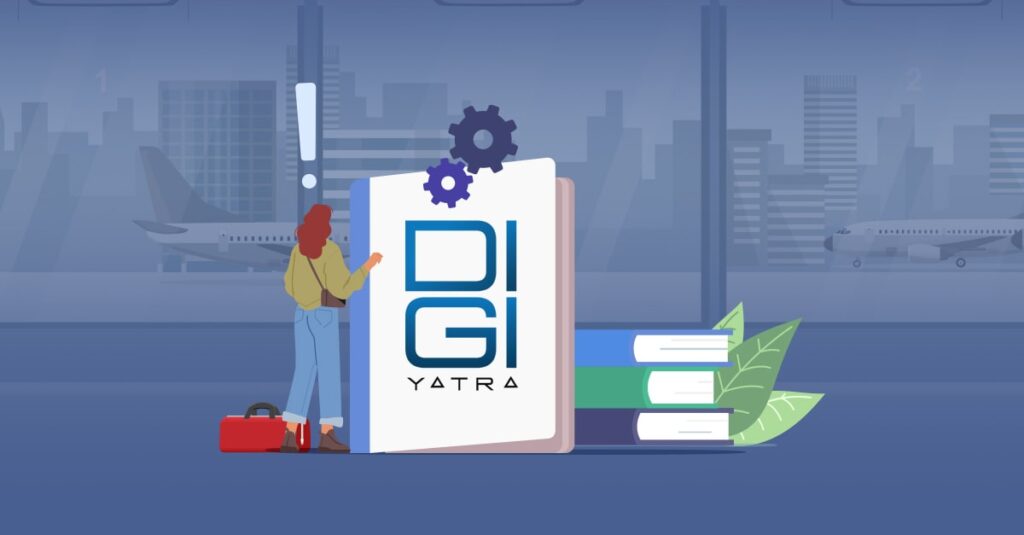 Developed by the Ministry of Civil Aviation, Digi yatra is a digital service that allows contactless processing of passengers at airports using facial recognition technology. It is being launched for three Indian airports – New Delhi, Bengaluru and Varanasi – to achieve paperless air travel.
Passengers can register on the app by sharing details such as name, email address and mobile number. Their identity is verified online through Aadhaar-based validation and a self image capture.
What is Digi yatra?
Digi yatra is a new facial recognition system that is being used for check-in passengers at airports. It eliminates the need for ID cards and boarding passes, The service was launched by the ministry of civil aviation on December 1. It is currently available at Delhi, Bengaluru and Varanasi airports, Passengers must download the app on their smartphones and register to use it. Once registered, they will be issued a Digi Yatra ID.
After this, they can scan their boarding pass or e-ticket to enter the airport. This will help them speed up their boarding process and save time. They can also access their Aadhaar cards, COVID-19 vaccination certificates and other documents from the app. However, this is only possible if they have an Aadhaar-verified ID card and a phone number attached to these services.
How to use Digi yatra at the airport?
The Digi yatra app is a free application that lets travellers use contactless identification at airports. It uses a facial recognition system to verify identity and link the passenger's boarding pass. This helps travellers skip the security checks, boarding gates, and airport entry points, which reduces time spent at the airport. The app can be downloaded on Android and iOS devices. Once downloaded, a user can use their Aadhaar-linked mobile number to register and receive an OTP. After the registration, the app will prompt a user to take a selfie. This will be used to verify their identity and will be added to the app for future travels.
Once the process is complete, the app will send a digitized version of the ID to the departing airport. It will also share the passenger's data and documents with the airline.
The ministry of civil aviation has launched the service, which is available at New Delhi, Varanasi, and Bengaluru airports. It will be rolled out to other major cities in March 2023.
Benefits of Digi yatra at the airport
A seamless travel experience at major airports has been made possible by the government with the introduction of Digi yatra. It is a paperless process at airport checkpoints and also includes self-bag drop and check-in service, facial recognition to identify pax and data recall, The Union Minister for Civil Aviation Jyotiraditya Scindia launched this facility at three airports: Delhi, Varanasi and Bengaluru. It will be implemented across other airports by March 2023.
This technology will save up to 40 per cent of the time that passengers spend at the airport, as is the case with Dubai International Airport where it saved nine minutes per aircraft. It will also minimise human intervention and reduce queuing times, The system maps the passenger's PNR and allows only bona fide travellers to enter at every checkpoint. This will help airlines to better plan their resources.
Security measures
Using facial recognition, Digi yatra allows passengers to board their flights hassle-free. However, security experts say that this method may put passenger data at risk, especially when there are no safeguards in place to protect it, To use the Digi yatra app, you have to download it from the Google Play Store or App Store and register with your Aadhaar linked mobile number. After that, you need to take a picture of yourself and upload it on the app.
The system will then be used to verify your identity across all checkpoints, including airport entry and boarding gates. Once you are validated, you will get an e-gate pass to enter the airport. The data that you upload will be encrypted and stored in your mobile phone, but it will be purged within 24 hours of travel. Civil Aviation Minister Jyotiraditya Scindia assured that this was done to ensure that passenger data is safe.